Free Shipping on Orders Over $90!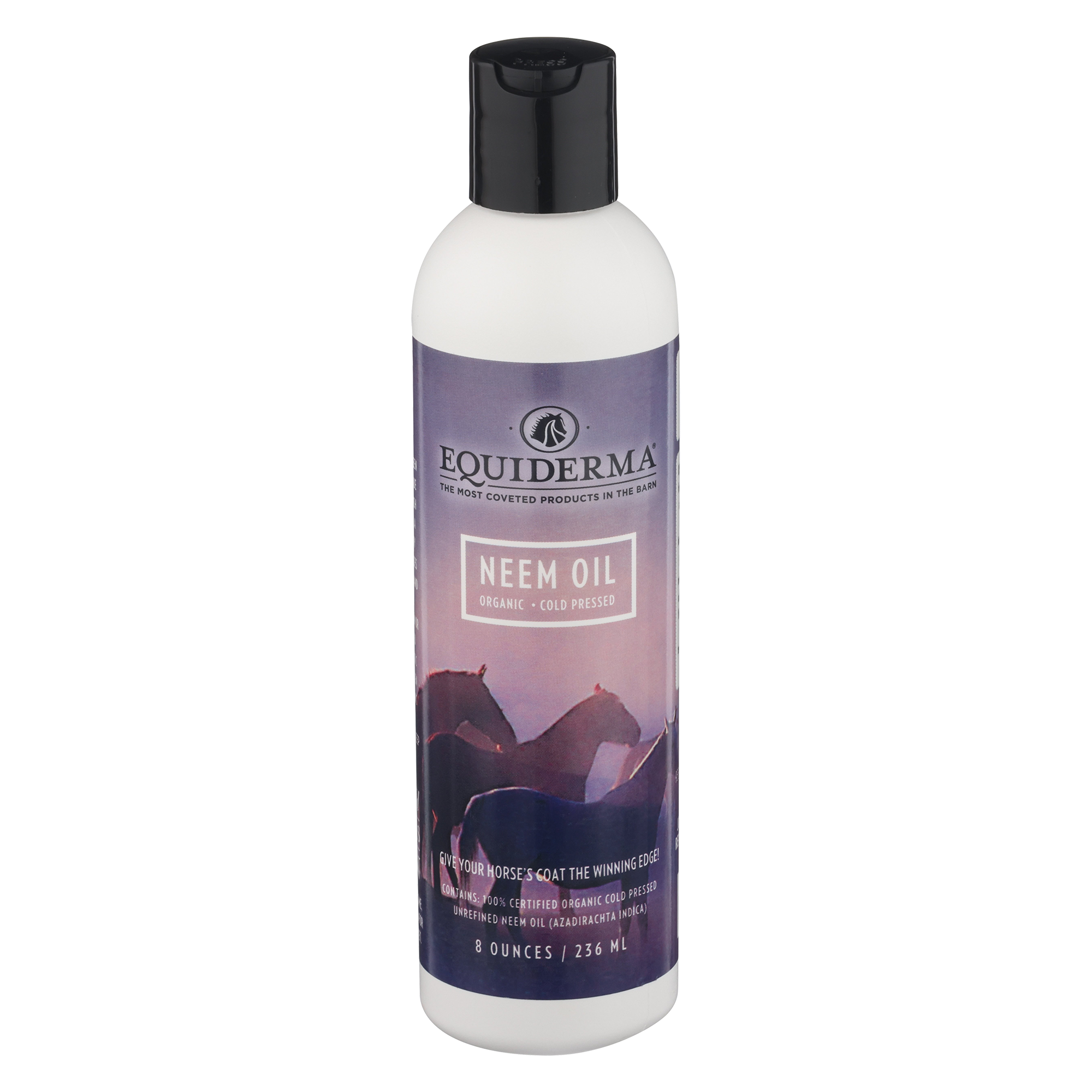 NEW! Organic Neem Oil
NOP Certified Organic, all natural, cold pressed and unrefined for maximum benefit
$9.99
EQUIDERMA ORGANIC COLD PRESSED NEEM OIL is NOP Certified, unrefined and derived straight from the seeds of the revered Indian neem tree. Botanical name AZADIRACHTA INDICA, neem oil has been used as a panacea for centuries due to its healing properties and ability to soothe and nourish even the most compromised skin. A natural antifungal, rich in fatty acids and glycerides, neem cleanses and nourishes compromised skin and hair without stinging. With countless uses in your home, barn or farmstead, neem oil can be used medicinally or added to cosmetic topicals, a cure-all in the chicken coop, or craft your own organic gardening solutions. It's an ingredient so good we couldn't keep it all to ourselves. 
If crafting your own sprays, don't forget to pick up your empty quart spray bottle here.
Show More
How it Works
Apply directly or m

ix with shampoo

,

conditioner

and other topicals

to give an added moisturizing boost to even the driest manes and tails while conditioning the

coat

 

Create your own

safe

grooming solutions for

all of

your animals

;

a powerful tool in treating mange

, ringworm

and mite infections

.

Consult your veterinarian before using on

cats

 

Apply to hooves

or add to hoof conditioners

to keep thrush and unwanted bacteria at

bay

 

Enrich the natural sprays and formulas used i

n

your

yard,

poultry

coop and

garden

 

For pe

rsonal use

, u

se up to 10% in home skin care

formulations

 

For the

garden

, mix

4 TBSP

per

gallon

of

warm

water

and add an emulsifier such as a few drops of natural dish or castile soap

, adjust as needed

. C

reate your own recipe by i

ncorporat

ing

other essential oils like rosemary and peppermint.

Use preventatively and to treat fungal

plant

diseases

 

EQUIDERMA NEEM OIL can be added to your favorite grooming solutions for an antioxidant, vitamin-rich boost, an excellent alternative to harsh and dangerous chemicals
*Neem has a cumulative effect when sprayed in the yard or on animals, effectiveness will increase exponentially with continued use.
INGREDIENTS
100% Certified Organic Cold Pressed Unrefined Neem Oil (Azadirachta Indica) 
*Because the majority of our ingredients come from natural and organic sources, you may see variations in color over time and with each batch. The quality and efficacy of the product is in no way affected by these natural cosmetic differences.
Guarantee
GUARANTEE
If you are unhappy with your order, we want to know! We put our products to the test in our barns and on our horses and confidently back them with our guarantee.
If you are not completely happy with your order, let us know within 30 days of purchase, and we will refund your order amount once we have received the returned product. Please email your order and return request details to info@equiderma.com to initiate the return process. We would also appreciate if you could tell us why you aren't happy with the product and what issue you and your horse are experiencing.
For purchases made through other retailers, please contact the store of purchase to initiate their return process.